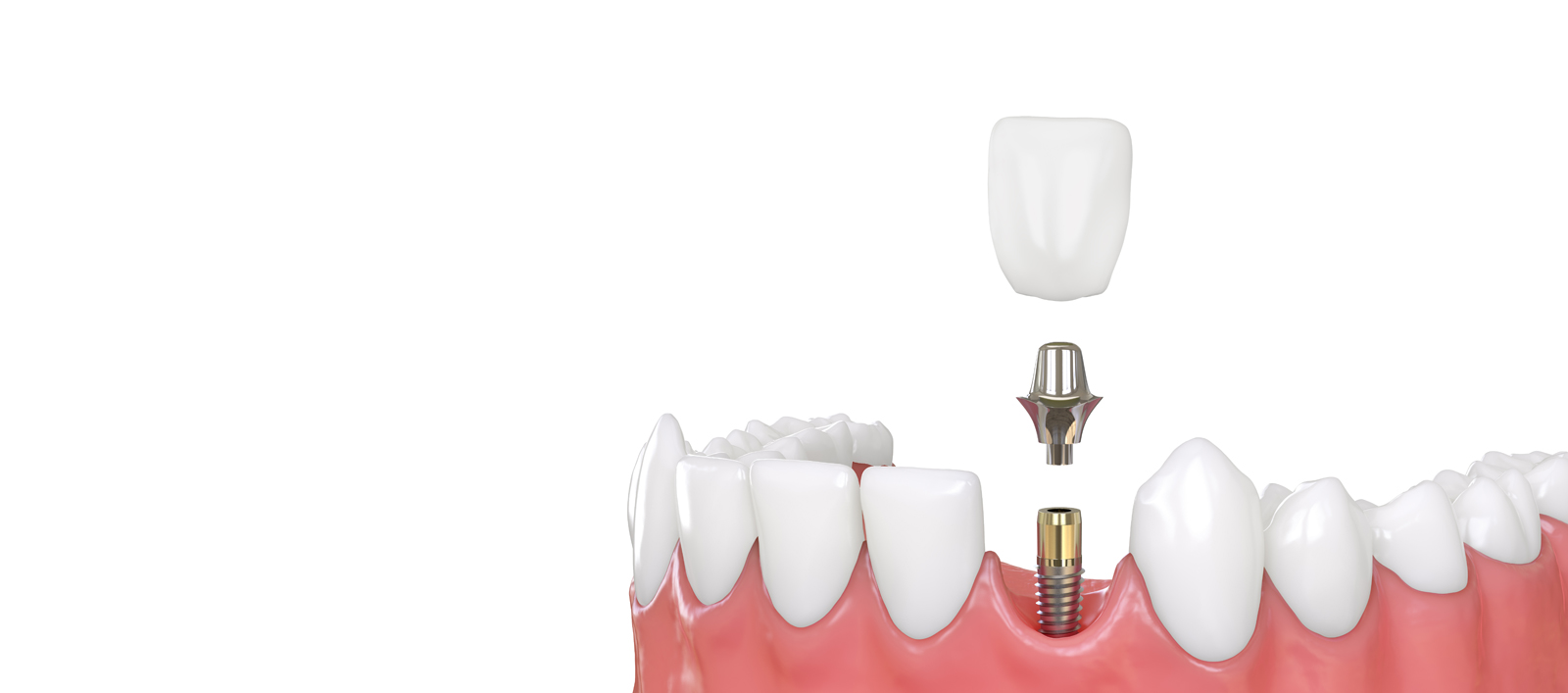 Your teeth perform some critical functions every day. Not only do they allow you to bite and chew your food, but they are also an important factor in proper digestion and nutrition. Your teeth allow you to speak properly by controlling airflow. They help to keep your jawbone healthy and strong by stimulating the bone so that nutrients are sent by the rest of the body. Your teeth also provide you with a beautiful, confident smile. Missing teeth, no matter how many, impacts all of these functions. Replacing missing teeth is essential for restoring all of the jobs that they perform. At Blue Summit Dental Group, we provide dental implants as an option for restoring the function, health, and beauty of your mouth.

What Are Dental Implants?
Dental implants are a fairly recent addition to the options available for tooth replacement. They consist of three major components:
The implant. The implant itself is a small titanium rod that is surgically inserted into the jawbone. Once in place, the implants rely on a process called osseointegration. This is the fusion of your jawbone to the titanium as you heal. With successful osseointegration, the implant becomes a strong, stable support, or root.
The abutment. This piece is a small connector piece that is placed on the top of the dental implant, connecting the implant and the crown.
The crown. The crown, typically made from ceramic, is made to look and function exactly like the rest of your natural teeth.
All of these components work together to provide you with a beautiful, natural, fully-functional smile, allowing you to get your life, and your confidence, back.
Types of Dental Implants
Dental implants can be used to replace any number of missing teeth. To meet your specific needs, there are several different types:
Single tooth implants. A single tooth implant is meant to replace a single missing tooth. One implant supports a single crown. It is possible to have several single-tooth implants in your mouth.
Multiple tooth implants. A multiple tooth implant, also called an implant supported bridge, is designed to replace sections of missing teeth. One or more dental implants are used to support your replacement teeth.
Implant supported dentures. An implant supported denture replaces an entire arch of missing teeth. Typically, 6 to 8 dental implants are placed per arch.
How Are Implants Placed?
Implants require a surgical procedure. After a local anesthetic (and sedation, if necessary), incisions are made in the gums. We then drill holes into your jawbone, following a custom treatment plan designed just for you. We then insert the titanium rods and close the tissue around them, leaving a small section of the rod exposed.
Healing from surgery can take anywhere from a few weeks to several months. While you heal, you will have temporary teeth, which will restore some of the functions of your mouth. As you heal, we will monitor your healing progress, making sure that the bone is indeed fusing with the rod. Once you have fully healed, we then place the abutments and take impressions. These impressions are used to design and create your custom, permanent replacement teeth. When they are ready, we screw them into place.
Benefits of Dental Implants
Dental implants have several benefits:
You can eat all of your favorite foods again. With the ability to properly chew your food, your digestion (and overall nutrition) is also improved.
Your speech returns to normal.
Your oral health is improved.
You regain your beautiful smile, as well as your confidence.
Implants are more comfortable.
Implants are a permanent solution to tooth loss.
Implants are more comfortable than other replacement options, with your teeth supported by the implants themselves rather than your gums.
Implants help to prevent the bone loss that typically follows tooth loss.
If you have suffered tooth loss, don't wait. Contact Blue Summit Dental Group at (810) 658-9177 to find out if dental implants are right for you.
Implant-Supported Dentures
Cleaning Your Dental Implants
Dental Implants In-Depth
Why You Should Choose Dental Implants
Implant-Supported Dentures
Tooth loss has many causes. The most common cause is gum disease, but it can also occur as a result of facial trauma, severe tooth decay, or bruxism. Your smile deteriorates, and your confidence drops. It becomes more difficult to bite and chew, which can also impact your nutrition. You may develop a lisp or other speech difficulties. Over time, your jawbone begins to resorb, growing weak and changing shape. This causes healthy teeth to shift out of alignment and also affects the appearance of your face. The more teeth you lose, the worse the effects become. Replacing missing teeth is essential, whether you are missing a whole arch of teeth or just one tooth. At Blue Summit Dental Group, we offer implant-supported dentures for full arch replacement.
Traditional Full Arch Replacement
For a long time, replacing an entire arch of missing teeth meant only one thing, dentures. Dentures have a reputation for being bulky, uncomfortable, and very unnatural looking. Thanks to modern developments, many improvements have been made to these restorations, and they are still used today.
While dentures have undergone many changes in recent years, the premise behind them is still the same. They are a removable prosthesis with fake teeth set into a base that is supported completely by your gums. The dentures of today consist of acrylic resin teeth, which can be designed to look just like natural teeth, and an acrylic base that can be colored to match your gum tissue. Along with looking more like natural teeth, dentures are also much less bulky.
Despite the improvements dentures have undergone, there are still many major drawbacks. First, they require a significant amount of additional care that can become tedious. They may slip out of place when you eat or speak, which not only causes embarrassment but sores on your gums as well. Because the prosthesis is supported by your gums, they can be uncomfortable. Moreover, they cannot stop bone loss in your jaw, meaning that they need to be replaced every few years.
Implant-Supported Dentures
Implant-supported dentures are a modern alternative to traditional dentures, providing you with another option for full arch replacement. This treatment uses small titanium posts, which are surgically placed into your jawbone, to support your arch of replacement crowns. As you heal, the bone fuses to the posts, integrating them into the jaw. Over time they become strong, stable supports for your new teeth. There are a few different options for implant-supported dentures.
• Fixed. This is one of the most common treatments for implant-supported dentures. 6 to 8 posts are implanted into the jaw to support your new teeth.
• Bar retained. While this treatment also uses 6 to 8 posts, a bar that connects all of the posts is placed after surgery. Your teeth clip on to the bar rather than being screwed into place on the posts.
• All-on-4® Treatment Concept. This treatment is commonly used when you have suffered bone loss, and your jaw is not suitable for other types of implant-supported dentures. It uses only 4 posts, but these posts are placed in such a way as to take full advantage of your existing bone mass without the need for a bone graft first.
The Benefits of Implant-Supported Dentures
There are numerous benefits to implant-supported dentures.
• They look much more natural. The crowns mimic the properties of your natural teeth, including color and how enamel reflects light.
• They feel much more natural and are significantly more comfortable. Your teeth are supported by implants rather than your gums.
• Your teeth are held securely in place. There is no need to worry about your teeth slipping or falling out of place.
• The crowns can be brushed and flossed just like natural teeth.
• The posts restore stimulation to your jaw, stopping and preventing bone loss.
If you are missing a full arch of teeth, an implant-supported denture may be the solution for you. Call Blue Summit Dental Group today at (810) 658-9177 to schedule your appointment.
Cleaning Your Dental Implants
Dental Implants In-Depth
Why You Should Choose Dental Implants
Dental services we offer to our Davison community
tailored specifically to you
tailored specifically to you
tailored specifically to you
tailored specifically to you